Hans Wetzels (1982) is a freelance investigative journalist from the Netherlands. He currently lives in Berlin and Landgraaf, and has experience working in and from countries like Kenya, Nepal, Angola or Ukraine and knows his way around Brussels and the European institutions. His work has been published in several Dutch, Belgian and international media, such as Vrij Nederland, Down to Earth Magazine, MO* Magazine, Africa Renewal or Deutsche Welle. Hans is a member of the Green New Deal for Europe campaign launched by the Democracy in Europe Movement 2025 (DiEM25) and likes to play his bass guitar whenever possible.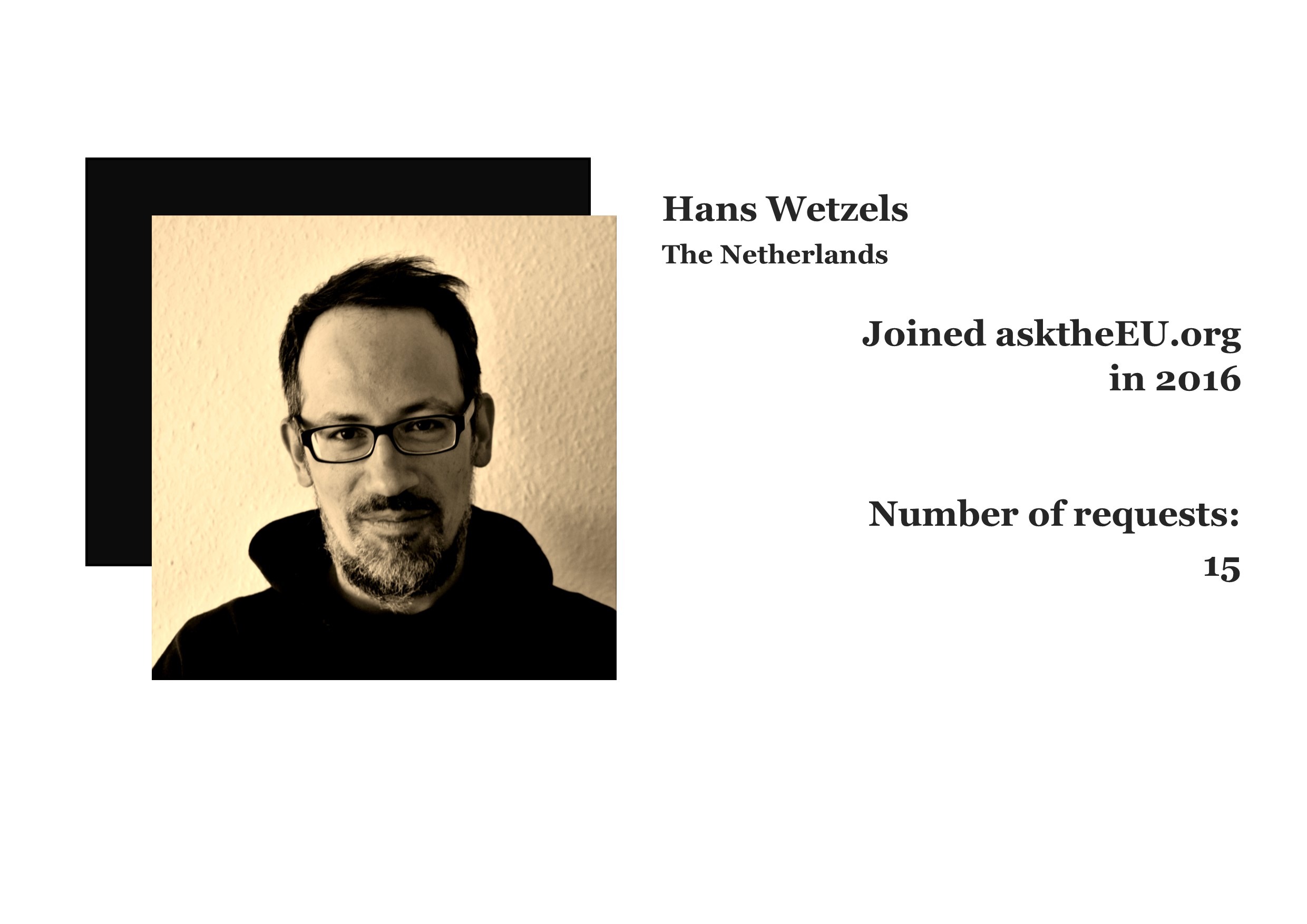 Alejandra: Hans, thanks for joining me today! You have been an AsktheEU.org user for four years already. What has been the most relevant information you have obtained through the platform during this time?
Hans: We obtained information about the EU-Mercosur deal through AsktheEU.org. To my mind, this is quite an important – if not the most important – trade deal to keep track of given the major impact it could have on the environment. If this deal goes through, we, as the European Union, will be condoning further destruction of the environment just to sell more cars in South America.
Documents obtained through several access to documents requests (made not only by me) paint a picture of a high and mighty German car industry and how far industries are willing to go to ensure they can export more: who they know or meet, how they influence and who is even invited by the European Commission to give their view on policy decisions. In practice, this would tell you a lot about the actual political colour of the European Commission.
A: How did you use the information? How did it help you in your professional work?
H: Information like that is, obviously, used by me and other journalists in articles. Usually it is published in Dutch-language media such as Vrij Nederland, Down to Earth Magazine or MO* Magazine, but also often in international outlets such as Deutsche Welle, Arc2020, or Africa Renewal.
Using AsktheEU.org helps me expose what is going on behind the EU smokescreen and dive into the often Kafkaesque complexity that is the European Union. It also saves me a lot of time!
A: What do you think about the responses you received from the European institutions?
H: I assume, maybe naively, that European civil servants act in good faith. It sometimes surprises me that they do not seem to have some documents on lobby, but that might actually mean that lobby has not taken place – at least officially. We all know a lot in the EU is decided in hallways, during informal dinners or elsewhere in the corridors of power. Thus besides access to documents requests, as a journalist, one also has to travel, network and actually go to places to get an idea of what's going on.
What I do find annoying though, is civil servants interpreting privacy legislation very broadly or stating information in a document "falls outside of the scope of the request", thus blacking out whole pages of possibly vital information.
A: On those occasions where possibly vital information was blacked out, did you ever file a "confirmatory application" (an internal appeal)? And did you ever think of going to the European Ombudsman or the European Court of Justice?
H: No, I did not. I did not have to or felt the need to, yet.
A: Finally, would you recommend this online platform to other citizens? Why?
H: I would recommend AsktheEU.org to everybody. It is very accessible and it provides the necessary infrastructure to keep our theoretically democratic institutions actually democratic and transparent. I am in no way assuming something structurally conspiratorial, but there is a lot of information that deliberately or by accident can go 'missing' in this web of institutions, lobby-clubs, think-tanks and political parties that makes up "Brussels".
This is often information that's vital to understand the parameters defining all of our daily lives. It might be an e-mail sent within or to institutions that can explain an otherwise incomprehensible decision. It might be a meeting between executives of Volkswagen with people at the highest level of the European Commission to understand how the webs of power are woven in Europe.
Journalists looking for the nasty secret often have to read rather more boring documents, and to connect the dots between a policy paper, a talk that took place on a certain date, or the data presented in a meeting. It's up to the journalist to be able to objectively connect those dots.
EU-institutions should be open to every citizen they represent. Besides making my own professional work easier, AsktheEU.org is so immediate that I could explain how it works to my mum. My mum who in the end is, as we all know, the person you should always be able to explain everything to.
Cover picture: Visionshare via Flickr (CC BY-NC-SA 2.0)